Erasmus Student Network Vilnius University
Erasmus Student Network Vilnius University (ESN Vilnius University) is a VU SA programme and a part of international student exchange network, which purpose is to encourage students' mobility and help international students to integrate into Vilnius University, acquaint them with the procedures at university, our country's culture and traditions. We have students-volunteers in Vilnius and Kaunas. 
ESN Vilnius University has a mentorship program called ESNbuddy: exchange students get mentors-volunteers who provide help directly in regards of various practical fields (dormitories, public transport, how to order an internet plan and other questions). Beside the mentorship program, there are 6 committees, in which volunteers do various activities from organising events to administering the webpage. The main purpose of committees – to organise enriching activities to the colleagues from all around the world. 
Vilnius University's Career Days
Vilnius University's Career Days (VU KD) is a VU SR project which aims to encourage students to meet their future employers, make contacts, and start their work career. It is also a good opportunity for the attending enterprises to find their future experts and workers in their field of work. This project aims to create a two-sided benefit for both our students and attending enterprises, and also create the relationship which could develop and bring much more benefit in the future. 
Vilnius University's Student' Investment Fund
Vilniaus universiteto Studentų investicinis fondas (Vilnius University's Student' Investment Fund) the first and biggest such fund, established by VU SR in Lithuania which motivates the youth to be interested in investment management. Each year 7 students of VU become part of the board of the fund where they can manage real investment portfolio of 10 thousand euros. The members of board can learn from the professionals in this field and the programme itself ensures uninterrupted and purposeful work of becoming the professional of this field. The acquired knowledge can be applied by analyzing financial instruments which are quoted in the world and Baltics' region stock exchanges. While looking for profitable long-term investment solutions, board members perform thorough fundamental and technical analysis of financial instruments and share their gained experience writing articles which are published in magazine "Investuok"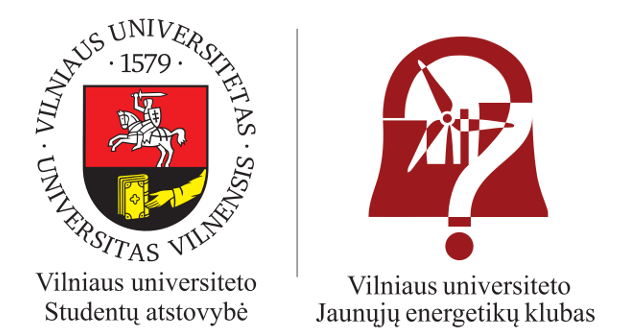 Vilnius University's young energetics
'
 club
Vilnius University's young energetics' club (Jaunųjų energetikų klubas) is a student organisation, counting its 10 years of activity, and uniting not only students who are studying physics but also students from other fields of study who are interested in energetics. 
The club members take care of the energetics museum in Antalieptė, attend trips to different objects and institutions of energetics, organise lectures, volunteer in national and international conferences by carrying out different experiments and expressing their position in order to improve the state of energetics and the quality of the important decisions on a national level. 
We are proud that we are the only youth organisation that is precisely developing the subject of energetics in Lithuania. 
Vilnius University's Kendo Club
Vilnius University's Kendo Club is a Japanese fencing studio for both beginners and those who want to strengthen their kendo skills. The Club aims to unite students who are interested in Japanese martial arts and, by taking part in competitions and other events, represent the University's name both in Lithuania and around the world.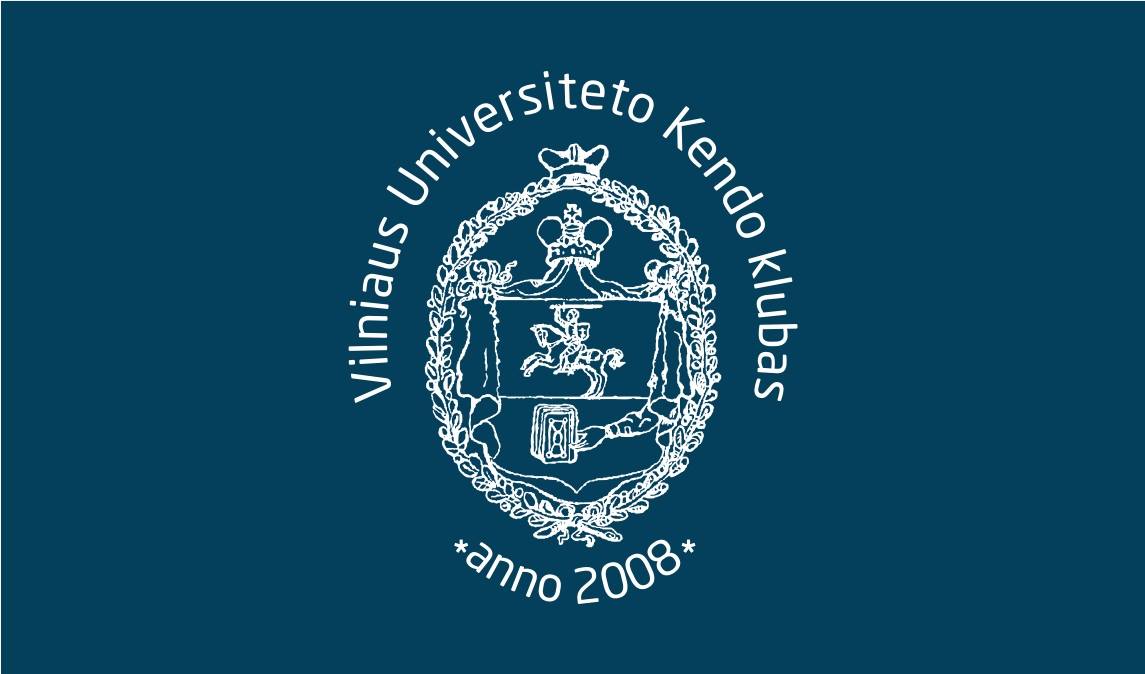 VU SR "Sąžiningai"
Sąžiningai (Honestly) – VU SR programme which helps the VU community to uphold its academic ethics and to prevent academic dishonesty in such ways as lowering the cases of cheating, plagiarism and purchases of various papers. For these reasons the members of " Sąžiningai" are watching the assesments, organise academic events, discussions, informational campaigns, carry out research, write articles and reviews.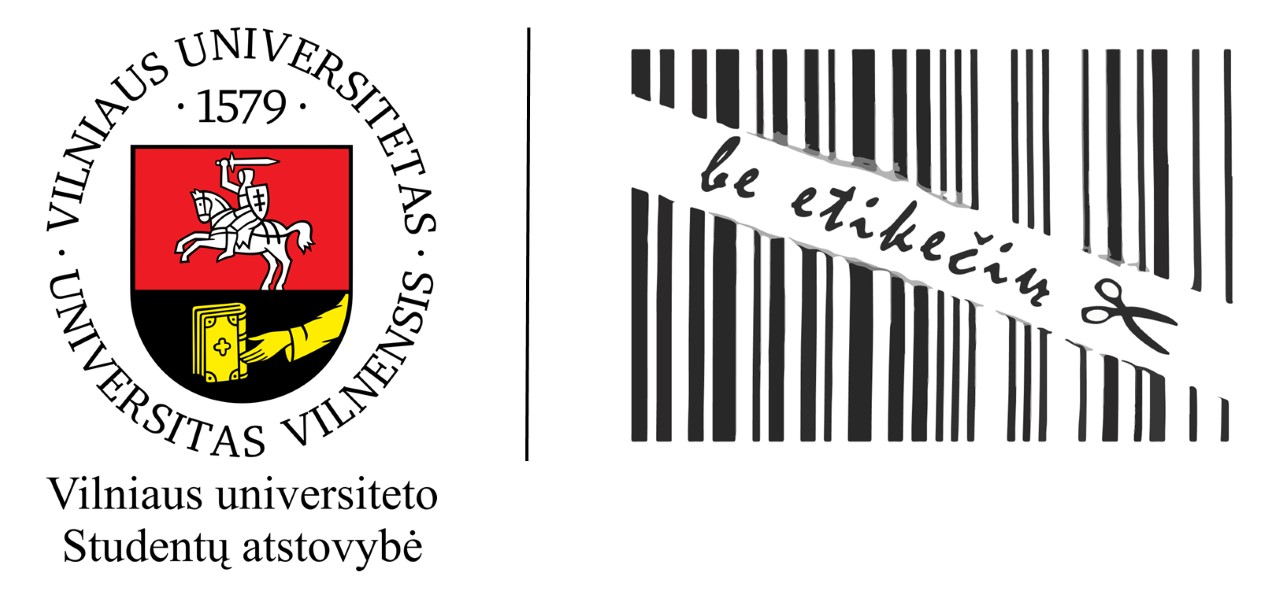 VU SR "Be etikečių"
We were founded in 2010 and have worked in different fields such as LGBTQ+ and other socially affected groups. We also aim to improve the emotional aura of the University and have created a photo project "Faces of VU" in order to show the versatility of the University's community. Our main virtues are equality, openness, and respect for every person's individualism. Our vision is a University's community where a person is accepted as one is. Our mission is to encourage the University's community to be more tolerant to various groups of people from those who are racially different to those who have depression. We are also trying to break the stereotypes and stigmas around the minorities such as the members of the LGBTQ+ community and people who have different psychological problems and disorders.  
VU 

Writers

'

 Club 
VU Writers' Club aims not only to unite people who write bus also encourage threm to form an interest in literature and to see it from a writer's, critic's, reader's and listener's perspectives. The Club members organise open lectures, poetry and prose reading events, meetings with other writers and also write reviews and articles in different literary subjects. The Club will widen its activity in the upcoming years: the are debates to be planed and also collaborations with other departments. VU Writers' Club gives the opportunity to develop as a person, encourages free creativity, helps to overcome stage fear, provides experience and competence with society and also in the fields of communication, organising and marketing.  
"

Studentai

 – 

moksleiviams

, 

moksleiviai

 – 

studentams

"
"Studentai – moksleiviams, moksleiviai – studentams" (SMMS)  is a VU SR organised three-day camp for school students where they can get to know the student life in University, study opportunities and VU itself. The idea for this project came into light after it was noticed that students who enroll into University realize that they did not do enough research about their studies and it does not suit them. To prevent this experience, SMMS was established which is a short scientific camp where students from high schools can meet higher education students and take part in activities organised by tutors where they can practically tackle the desired study niche and learn more about other scientific areas. For more information about the SMMS project go to smms.lt and www.facebook.com/smms.projektas/ 
Mentoring program "
Pole 
Star" is
the
University's gift for Lithuania
"Pole Star" is a unique programme based on individual, long-lasting, and stable child-volunteer friendship (it is also available in Kaunas Faculty). VU students devote part of their time to 3rd-6th grade children who are experiencing issues with communication or/and with behavior or for those who need older friend. Students and pupils do homework together, safe spend leisure time meaningfully and safely, communicate in informal environment, and create an equal relation.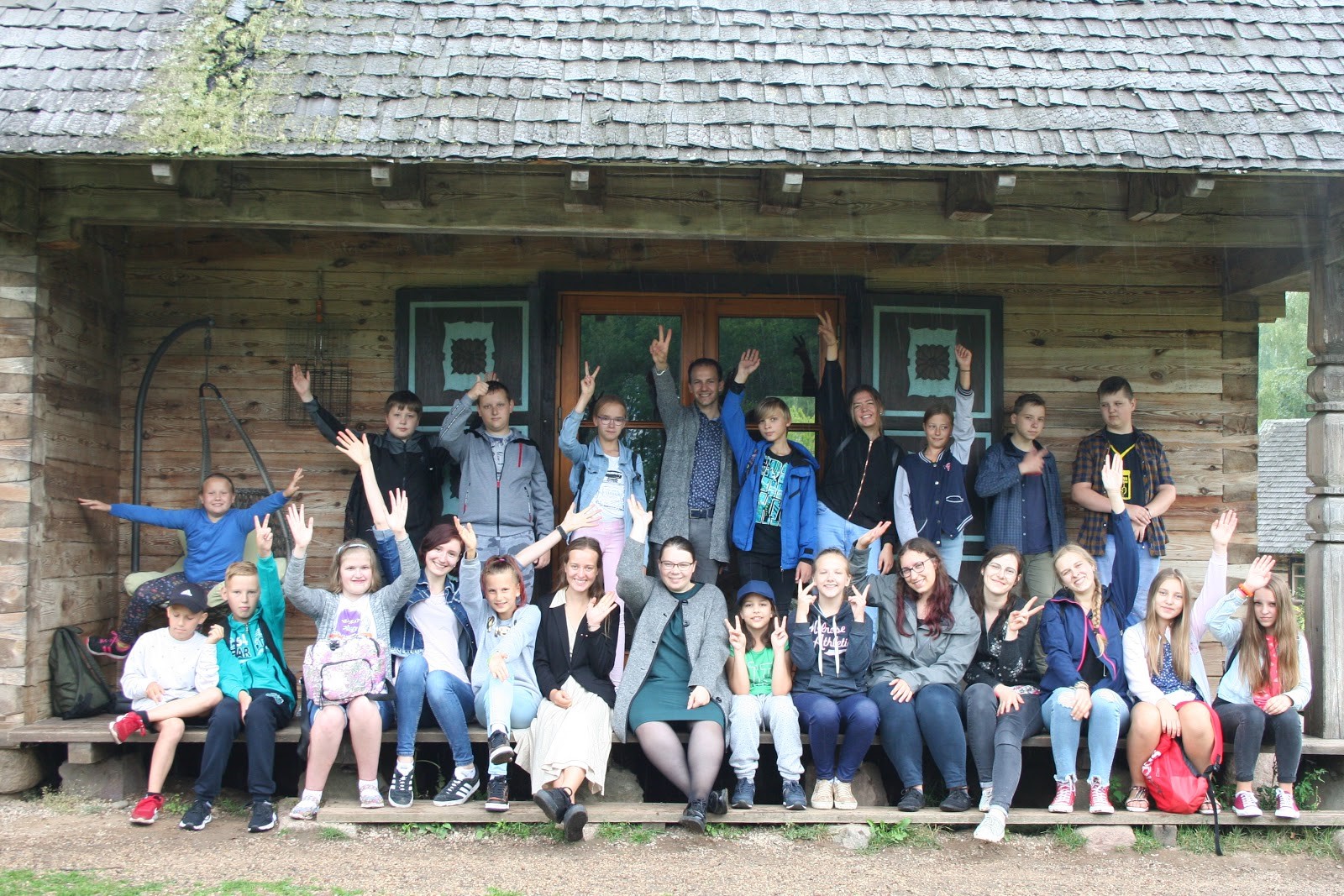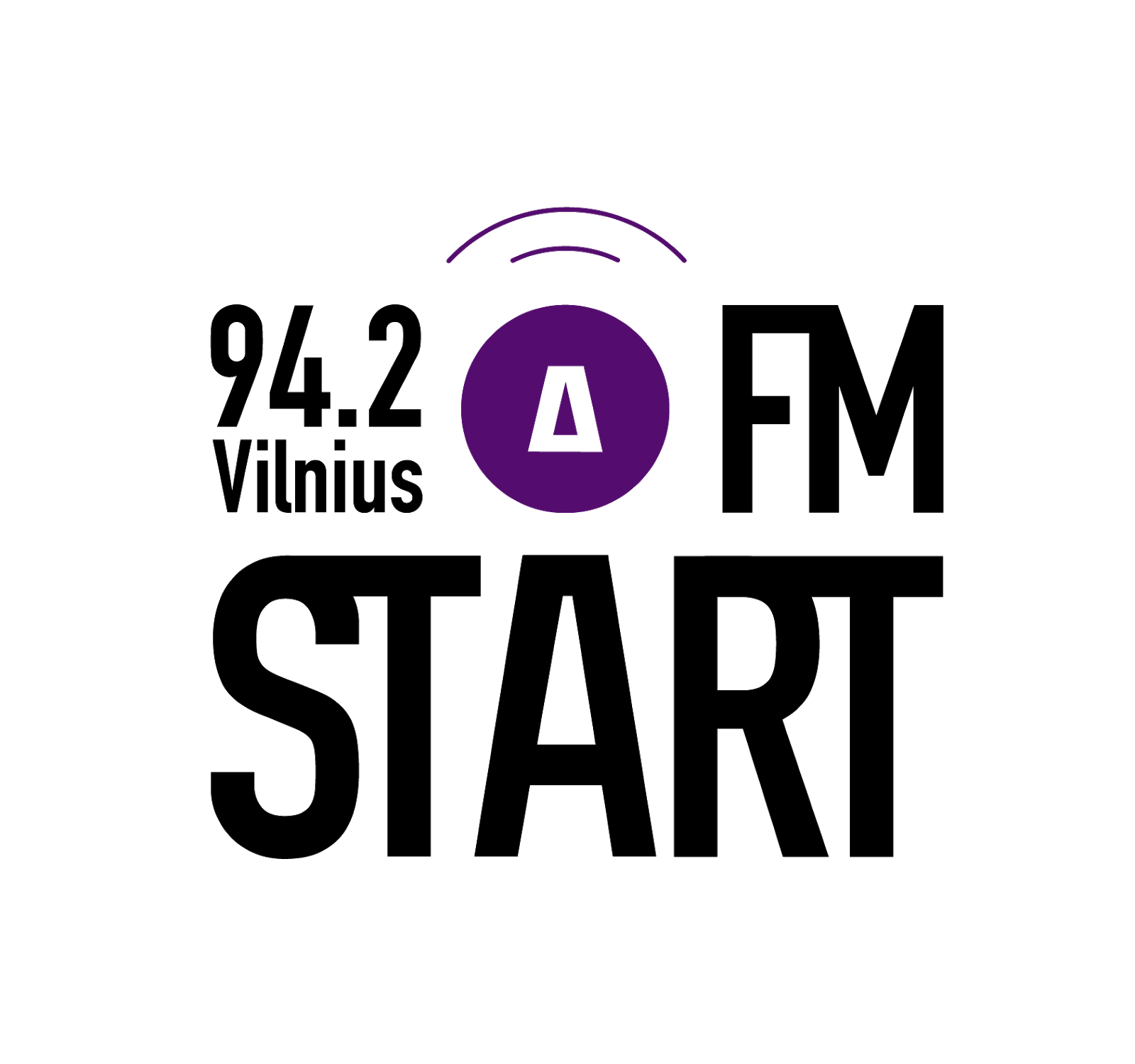 Start FM 94.2
Vilnius University's Radio Station "Start FM 94.2" was established on September 12th, 2005.. "Start FM" is a place where students can get wide opportunities to realize themselves. It is also the only students' radio station in Lithuania which helps to prepare future journalists, programmers and other specialists. It can be heard in the whole Vilnius and almost in the whole world on startfm.lt  
Since its establishment, the station is non-profit seeking, does not air advertisements and all employees work voluntarily. The preference of show hosts is for the members of VU community but anyone can be a part of this project. Mostly the radio plays jazz, rhythms of the city, global sound and experimental music. 
Vilnius University's Marchers club
Vilnius University's Marchers club is a non-profit seeking organisation which unites people who like active leisure and travelling. Even though it is a part of the VU community, anyone who wants to travel and spend more time in nature with a good company can become a member. Thursday evenings in the head office which is Saulėtekio alėja 31 in Vilnius, people share their travel experiences which often take place outside Lithuania or even Europe, whilst on the weekends trips to different places in Lithuania are organised with such things as skis, bikes, feet and canoes.  For more information about the Marchers club go to out Facebook page (Vilniaus universiteto žygeivių klubas) . 
University's LGBT+ group
University's LGBT+ group is an association, uniting Vilnius University's LGBT+ students, workers, alumna and also people who support this organization.  The volunteers from other higher education institutions are also taking part in this activity.  University's LGBT+ group works in two different directions. Firstly, we gather people that support the LGBT+ community at Vilnius University.  Together we create a safe environment in which acceptance and support is important.  
Secondly, we raise important questions relating the VU LGBT+ community not only at the University, but also on a national level.  We seek that a young man's voice could be heard and words could be transformed into specific actions at the University and beyond its borders. 
And thirdly, we educate the society in subjects, regarding LGBT+ and human rights.  Also we raise questions about the predominant norms of human sex. These are different discussions, lectures, workshops to which everyone can come and take part and also help to organise them. The lecturers and speakers talk about different questions and aspects about human rights and invite the society into a dialogue.   
If you want to create a diverse university, come and join us!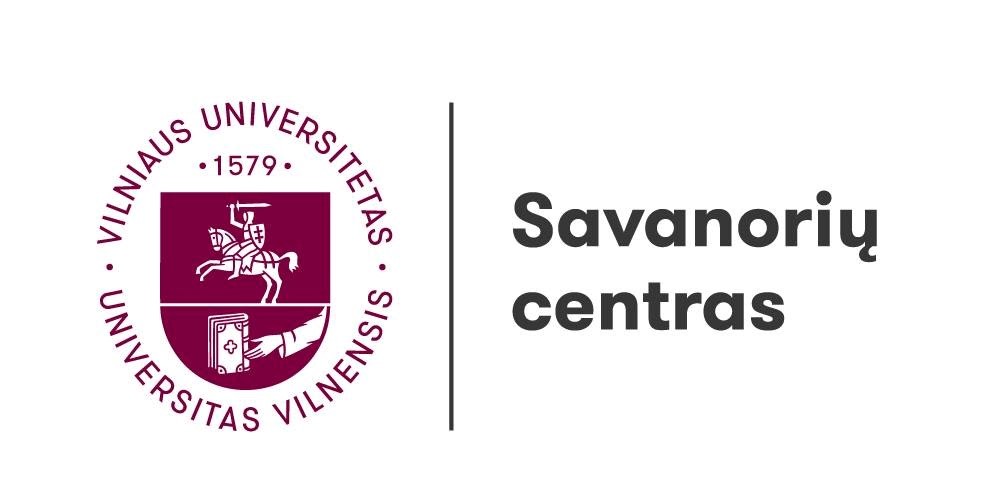 VU Centre of Volunteers
Why is it worth it to be a volunteer? 
It is a chance to: 
To help build a more sustainable society using your skills and time

 

Meet new people

 

Enrich your CV

 

R

ecognise in which sphere you want to work

Get 

a

 

recommendation for a scholarship

 

The hours you spent volunteering could be included into Diploma supplement

 
Possibilities of volunteering in Vilnius University
VU Library

 

VU Botanical Garden

 

VU Health and Sport Centre

 

VU Museum

 

VU Zoology Museum

 

VU Press

 

Help for the students with disabilities is an opportunity to become 

a

 

VU volunteer and help students with disabilities

 

A 

Day with… is a short-term volunteering or trip to foster homes or other institutions giving some of the free time to people who lack friendship.

 
Volunteering activities outside of the University 
Blessed J. Matulaitis' Social Centre is a 

place

 

which offers professional social help for children, teenagers, young adults and for people with mental disability. Volunteering 

opportunities: help in children's day centre, teenagers' day centre, people with mental disability day centre.

 

LPF "Mothers' Union" is a support and charity fund which takes care of children with oncological diseases and their families. Volunteering opportunities: visiting ill children, organising support events, contributing to organization's communication 

and administrative works.

 

LPF "Food Bank" is a support and charity fund which distributes food to organizations caring for the most deprived which give it for those in need. Volunteering opportunities: help distributing food for those who need it, helping prepare the food in the kitchen for people who come to common lodging-house, and contributing b

y working in food warehouse or administration.

 

"Caritas" is

 an

 organisation which carries out humanitarian activities all over the world and helps people in need. Volunteering opportunities: visiting lonely elders, help in children's day centre, helping in homeless people's canteen, helping refugees and immigrants.

 

Energy and Technology Museum is 

a

 

technical heritage, Lithuanian energy and Vilnius' history promotion and research institution. Volunteering opportunities: 

contribute to event organisation, supervise expositions, and communicate with visitors.

 

Silver line is emotional help and friendship line for elders. Volunteering opportunities: offer emotional help for older people via phone.

 

Public institution

 "Not to take but to give" is

 an

 initiative established in 2005 and helps children from foster homes, day centres, and social risks families. Volunteering opportunities: become

 a

 tutor for children who are experiencing difficulties.

 
Contacts: 
VU Centre of Volunteers 
Community Developing Division 
www.vu.lt/savanoryste  
+370 5 239 3295 
Email: savanoryste@vu.lt 
Saulėtekio Avenue 9, III house, 606 cabinet (III-IV) 
Universiteto str. 3, 108 cabinet. (I-II, V)