Onsuting and training center
What is psychological consultation?
During a consultation a psychologist can help to identify and change negative or unlogical thinking, form a positive viewpoint of the world and oneself, overcome the feeling of hopelesness and weakness, feel responsible for one's actions, return the feeling of pleasure, find solutions to everyday problems, discover one's strenghts and use them in life, overcome stress, post-traumatical experiences, solve interpersonal problems. 
A consultation with a psychologist is given if you: 
feel lonely or not understood;

 

feel stress about your studies or other parts of life;

 

e

xperience emotional difficulties;

 

have relationship problems;

 

have LGBTQ+ questions;

 

have 

questions about 

yourself (self-knowledge)

;

 

experience a crisis. 

 
If you experience any of the mentioned above we advice you to seek assistance in Consulting and Training Center. Here, during the individual consulting with a psyschologist or in group activities we will try to help you to get a grip on your mind, learn to get along better with others, overcome anxiety, change your behaviour, thinking and well-being.  
In regards to the quarantine experiences individual consulting is carried out not only face-to-face, but also remotely using the most suitable application for you (Skype, Viber, Whatsapp, MS Teams etc.).  
All services for VU students have a discount – 75% of the services' price are paid from the VU budget. Depending on the qualification of the consultant, students can have from 4 to 6 compensated individual meetings or from 8 to 20 group meetings. When all of the discounts have been used one may continue consulting for the full price.  
The list of consultants can be found here. 
Come: Universiteto g. 9/1, 116 kab.  
Call us: (8 5) 268 7254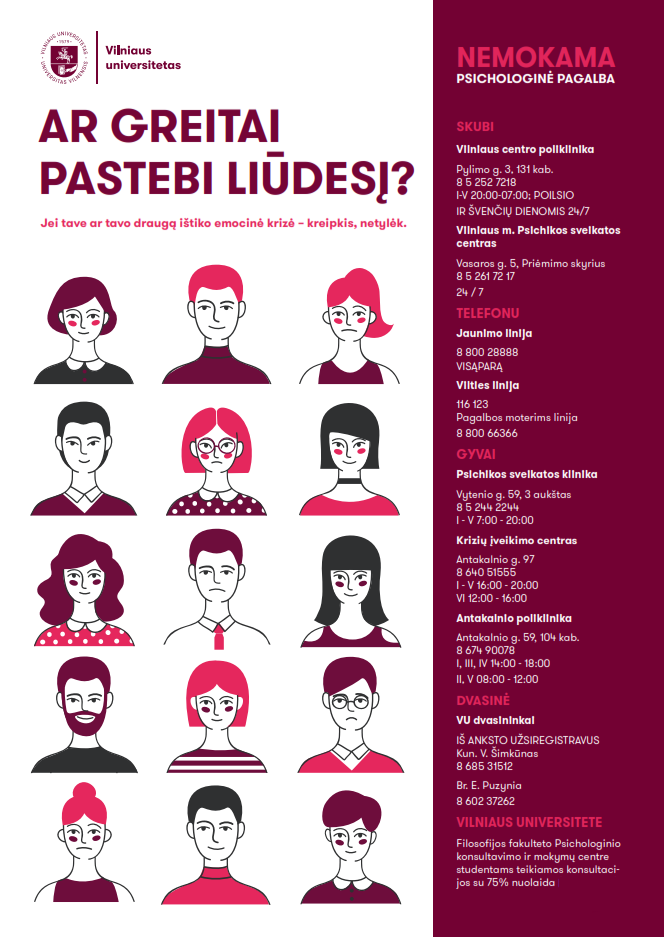 What to do when experiencing a personal crisis?
In the moment of crisis we offer help free of charge (up to 3 meetings) if you: 
experienced a shocking moment in life;

 

have thoughts about suicide;

 

experience different forms of fear, anxiety or worthlesness;

 

have worries about a friend who is going through a rough emotional crisis or talks about suicide (If there is a risk of suicide to you or your friend – call 112 i

mmediately!)